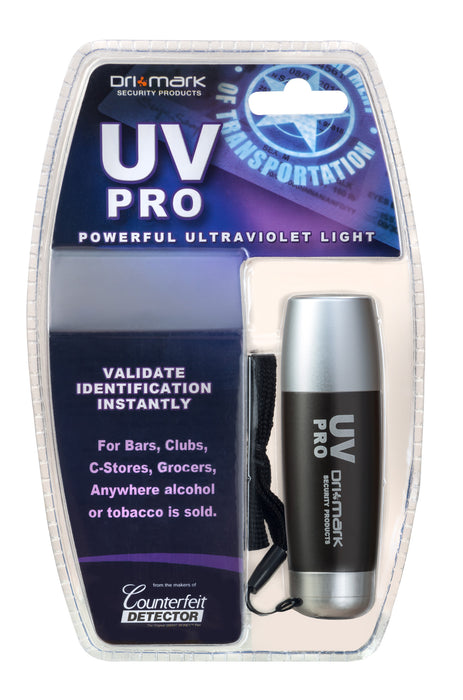 Dri Mark UV Pro- ID, Documentation, Counterfeit Detector
by Dri Mark
Product Description
Dri Mark's UV Pro offers a quick and cost effective, Ultra Violet Light Detector that can be used to check for counterfeit bills, ID's, official documents and credit cards on the spot.
Powerful UV Light- Helps front of the line employees check on the spot for fraudulent ID's, passports, documents and counterfeit bills. 
Easy To Use- With the click of the button you can activate the UV light on the spot.  Stores, retailers, bars, special event organizers and resturants can train employees to use in various settings to check for forged documents, ID's and bills.
Compact Size- An advantage of the UV Pro over other counterfeit detection machines is that it's small size is designed for easy on the go use and can be used anywhere that it's needed for events, business and retail settings. 
Battery Operated- Simply insert 3 Triple A batteries to use the light. (Batteries not included) No electric outlet needed for use. The UV Pros light can last for over 100 hours with a fresh set of batteries.
Designed to last- The UV Pro is designed to last, with steady aluminum construction and a heavy duty switch for long term and reliable use.