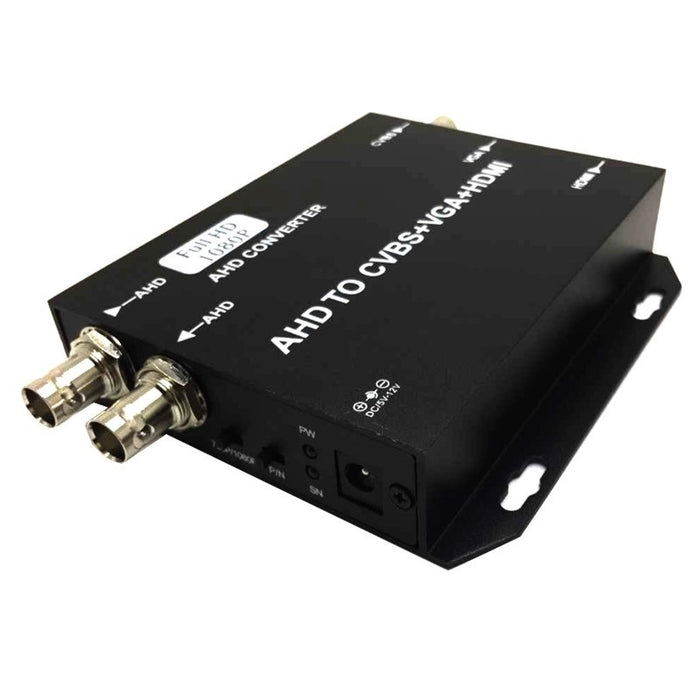 AHD to HDMI Converter, AHD Video Loop Output, BNC to HDMI, 720p, 1080p
by CCTV Camera Pros
Product Description
The AHD-CV7 is an AHD to HDMI video converter that takes BNC video input from an AHD CCTV camera (720p and 1080p resolutions supported) and outputs the video resolution to the HDMI video output port. Multiple AHD-CV7s can be used as a video splitter to connect an AHD camera to multiple HDMI monitors. This is done using the AHD loop output (via BNC). The loop video output allows you to send the native AHD video signal to another device, such as a surveillance DVR.
This converter is typically used to connect an AHD security camera to an HDMI monitor to display a live high definition video feed. 
AHD CCTV Video Converter Spec
1 BNC Video Input (AHD)
1 BNC Loop Output (AHD)
1 BNC Loop Output (CVBS)
1 HDMI Video Output
1 VGA Video Output
Supported AHD Resolution: 720p 25/30, 1080p 25/30
Supported HDMI Resolution: 480, 576, 720p, 1080i, 1080p 25/30/50/60
NTSC and Pal Formats Supported
Video Signal Range: 0.8V p-p
Power Consumption: 4 to 5 watts
Operating Temperature: -10°C~60°C / -14°F~140°F
Dimensions: 128mm x 84mm x 26mm
5V DC Power Supply Included
BNC Video Input, AHD Loop Out, HDMI Output
One AHD CCTV camera can be connected to the AHD-CV7 using the BNC video input. RG59 coax cable is typically used to run the video. The AHD-CV7 is compatible with PAL and NTSC video formats which are automatically detected. The AHD loop output acts as a video splitter and enabled one camera to be used with an HDMI monitor and another device that accepts AHD video input via BNC / coax cable, such as a DVR. The resolution can be toggled between 720P and 1080P depending on the type of AHD camera being used. The P/N switch allows the user to change from NTSC to PAL and vice versa. The LED light labeled "PW" indicates if the device is powered on / off. The "SN" LED let users know if the device is functioning properly. Flashing is a normal status. Off is not normal.
AHD to HDMI Converter Side View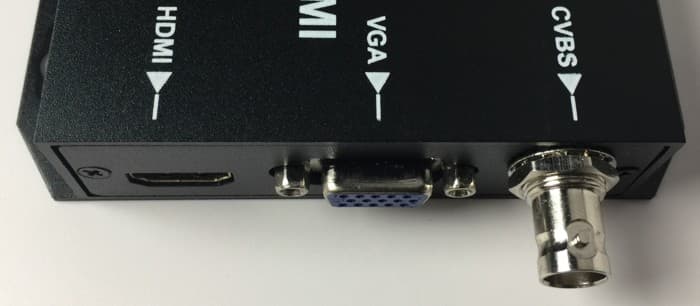 The HDMI / VGA out can be connected directly to an HDMI / VGA monitor / TV using an HDMI / VGA cable. Users also have the option of outputting a non-HD, CVBS signal that can be connected to a compatible BNC monitor, test monitor, or DVR.
How to Connect AHD Camera to HDMI Monitor
The above wiring diagram shows how to connect an AHD CCTV camera to an HDMI monitor and surveillance DVR. Because many AHD DVRs do not have loop outputs (like traditional CCTV DVRs do), the BNC AHD loop output is used to share the video signal between 2 devices. In this diagram we share video from a single AHD security camera with an HD TV and a hybrid CCTV / HD surveillance DVR.
---
Connect AHD Security Camera to Multiple HDMI Monitors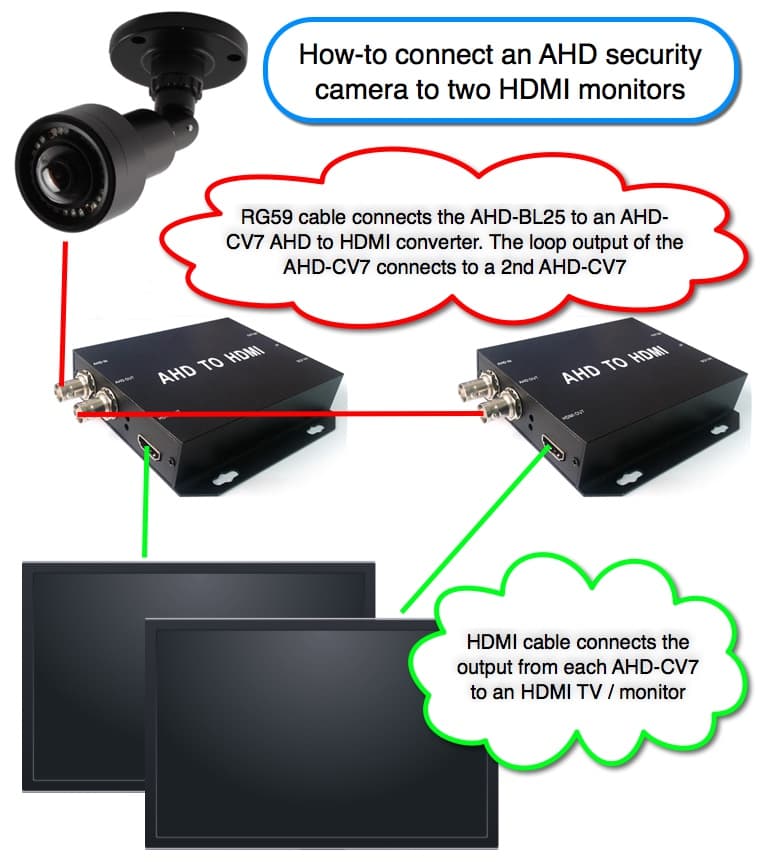 The above diagram shows an AHD-BL25 180 camera connected to two HD TVs using two AHD-CV7s that are linked together using an RG59 jumper cable. Here is how it works.
The AHD-BL25 is connected to an AHD-CV7 AHD to HDMI video converter using RG59 coax cable. You can use this

 

premade Siamese cables for HD security cameras

 

if you want to power the camera from a source near the first converter. Or if you are powering the camera at the location where the camera is installed, you can use these

 

RG59 jumper cables.
The AHD-CV7 has a BNC loop output which lets you connect the video to a second device using a coax jumper cable. In this installation, we connect it to a second AHD-CV7 using a premade

 

RG59 jumper / patch cable. A 3rd AHD-CV7 could be connected to the 2nd one this same way if an additional monitor was needed. You can connect as many monitors as you need by adding additional AHD-CV7s.
Last, use an HDMI cable to connect the HDMI output of each AHD-CV7 to a TV / monitor.
https://www.youtube.com/watch?v=JGp-E4_kbNo
Security Camera Video Monitor at Retail Store Entrance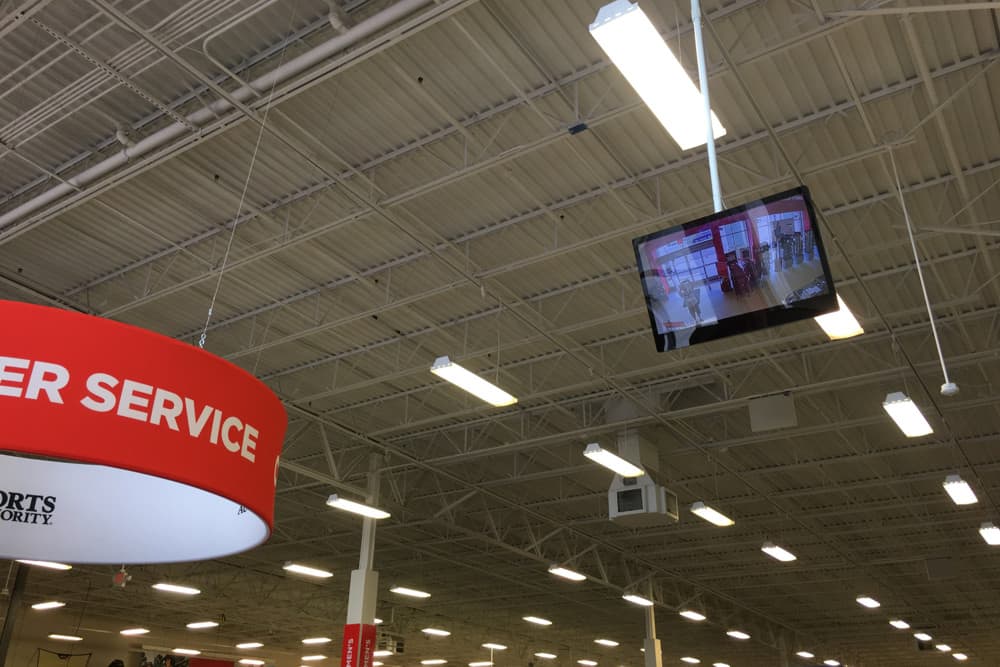 The AHD-CV7 can be used by retail stores to display a live surveillance video feed at the store entrance. This type of installation is very typically used by major retail chains. It creates a theft deterrence and helps customers feel safe knowing that the store uses security cameras.
---
AHD CCTV Cameras