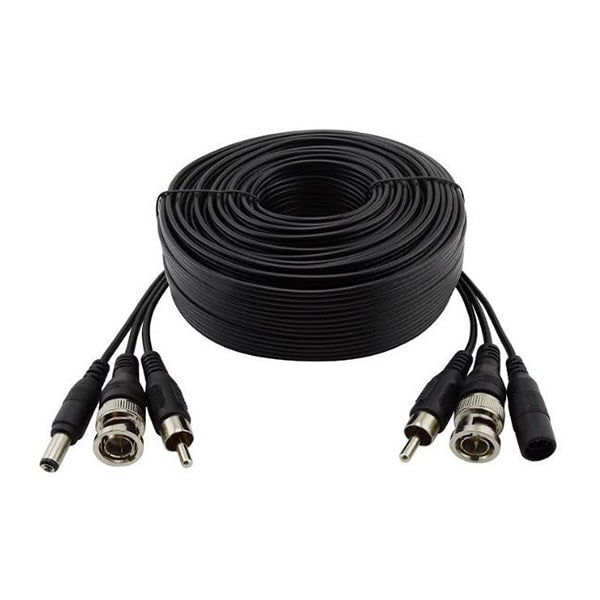 100ft Siamese Video Power Audio Cable, AHD TVI HD-SDI CVI CCTV Cameras
by CCTV Camera Pros
Product Description
The HD-100A is a pre-made 100 foot Siamese coax video / power / audio cable that can be used with CCTV, AHD, TVI, CVI and HD-SDI security cameras. These video, power, and audio cables are sometimes referred to as a plug and play cable for security cameras because it is so simple to use. The HD-100A will work with any analog CCTV camera that uses a BNC video connector, 2.1mm power plug, and RCA for audio.
These cables also work with high definition security cameras that transmit video over coax such as HD-SDI cameras and AHD cameras. For cameras that do not use a power plug and instead use a positive and negative terminal block or if you are using a power supply box instead of a individual power supply, installers can attach a PT-3 power lead or PT-4 power lead to convert the power plug to two individual wires.
These pre-made cables will simplify your surveillance system installation by eliminating the need to cut cables and crimp the ends on yourself. If you need to extend the distance of your cable, you can connect two or more pre-made cables together by using a BNC double female connector.
Because the power portion of the cable is male on one end and female on the other, there is no additional connector needed to connect the power portion of two cables together. Security Camera with Audio Microphone Installation Installing Audio Surveillance Microphone with Audio, Video, Power Cable, Security Camera, and Power Transformer The above installation diagram shows how these audio, video, power cables cables can be used to install an HD security camera with a audio surveillance microphone. This is a convenient installation method for professional and DIY installers.
The above installation diagram shows how these audio, video, power cables cables can be used to install an HD security camera with a audio surveillance microphone. This is a convenient installation method for professional and DIY installers