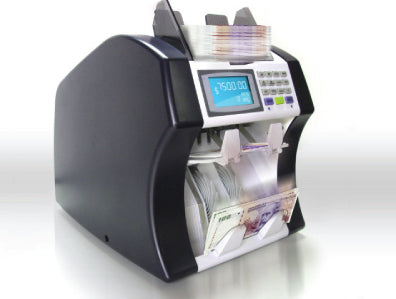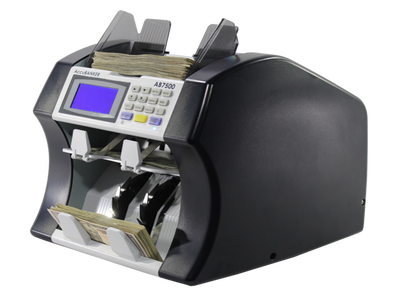 Dual Pocket Mixed Bill Value Counter AB7500
by AccuBanker
Product Description
Features
Quick, accurate and easy USD and EUR bill counting

Four counting options available – MIX, COUNT, SORT and ORIENTATION

Six counterfeit detection methods – Infrared, UV, Magnetic detection, Double bill detection, Magnetic thread detection and size verification.

Comes with rejection pocket for notes that cant' be identified, without stopping counting

Easily updated software when new bills are released
Easy-to-read external display

USB and Printer connections

Count at 800, 1,000 or 1,200 bills per minute

Durable and super reliable

Backed by 3 Year Manufacturers Warranty
The AB7500 allows you to easily and quickly count your bills while checking for counterfeits in the process. This sturdy and reliable machine is fantastic for large businesses that take in large amounts of cash. The AB7500 makes counting easy and ensures that you will never include counterfeited bills in your takings.
Bill Counting Modes and Fast Speed
The AB7500 offers a variety of ways to count your cash at fast speeds.
The MIX option allows you to count mixed denomination bills, giving you a total figure on the external display at the end.
The COUNT option is great for bills that have seen a bit of wear and tear and are therefore rejected by the MIX mode. It will count these bills before giving you a total number of bills at the end.
The SORT mode will scan the first bill entered into the machine and then scan every bill thereafter, ensuring that they are of the same denomination as the original. If it comes across a bill of a different denomination it will immediately stop, allowing the user to remove it. The result is a neat stack of bills that are all of the same denomination. Money sorting just got a lot easier.
Great for big businesses
The AB7500 is built for any kind of businesses that deals with cash regularly. From fast bill counting to counterfeit detection, this machine has you covered. It works while plugged in so you can use it continuously while your business operates. The machine is backed by a 3 year warranty, insuring that the AB7500 provides high quality money handling functionality and lasts a long time.
EXCELLENT PRODUCT
Excellent product! Works perfectly with multi-denominational currency, old and new bills and with a staff that was not always careful enough when counting various funds by hand. Virtually eliminated the issue of various denominations mixed in strapped bundles. Highly recommend this excellent product. Made the staff happy too!