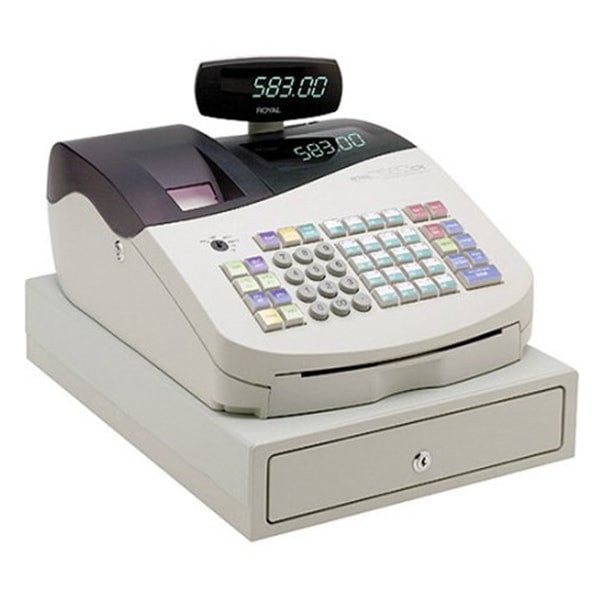 Royal Alpha 583CX Cash Register
by Royal
Features
It's features allow you to keep tax rates separate for customer purchases including local, state and federal taxes.
It comes with 99 departments, 26 clerk ID system (Each clerk can be programmed into the register with up to a 24 character name or description), 1,000 Price Look Ups and four tax rates including Canadian. Each PLU can be programmed with 12 character names or descriptions to easily identify each one. Reports also print sales activity of each PLU.
It comes with a display that can show words and numbers with as many as 5 messages (at up to 42 characters each) to display on the customers side and show numbers for the cashier. Scrolling messages on the customers side allows them to see what they are being charged and can help ensure accuracy for both the cashier and customer.
A serial port is included on the cash register so you can easily connect it to a PC and also use with an optional bar code scanner. Optional software (not included) includes a filter that downloads totals at the end of the day to report directly to your QuickBooks Pro or Peachtree accounting programs.
Heavy Duty Locking Drawer includes 4 bill, 5 removable coin trays and can hold accessories.
The Alpha Keyboard makes programming faster and easier with labeled department keys for PLU's, clerks, departments and different messages. Cash, Check and Charge Sales Keys are also included on the keyboard.